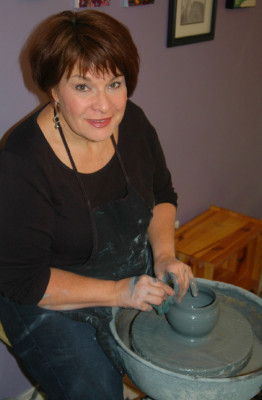 POTTERY CLASSES
Learn to create functional pottery through various hand building techniques and by throwing on the potters' wheel.  Explore form and function, surface decoration, finishing techniques, glazing and firing.  There are four potters per class.  Work at your own pace with individual instruction, in a relaxed atmosphere. All skill levels are welcome!
Your registration fee includes instruction, firings, glazes and use of studio tools and equipment.  Clay is available from the studio at $25.00 for 11.5 kilograms.
How to register:
Email the studio with your preferred class session, day and time. Classes are Tuesday evenings or Wednesday evenings or Wednesday evenings.
If space is available in that class, you will receive a confirmation email.If space is not available, you will be asked to select a different class.
Once you have received confirmation, please send your registration fee, by e-transfer, to mm_w@sympatico.ca within 48 hours of your confirmation being sent to you. Pease check your email frequently!  In the event that payment is not received as requested, your space will be offered to another potter.  Thank you for your understanding.
Once the transaction of your registration fee is complete, you will receive a receipt and a Welcome to Pottery email.
It's that easy!
Registering for a class assumes your acceptance of the following:
Registration fee is non refundable.
No refunds or extra studio time will be offered for missed classes.
In the event of sever winter driving conditions when it is deemed necessary to cancel classes, a make-up class will be offered.
Only work made in class will be fired.
2019-2020 Class Schedule
Morning classes; 9:00 am to 12:00 noon.     Evening classes; 7:00 pm to 9:00 pm
Session 1, six week session
Wednesday morning:  $315.00 + $40.95 (HST) = $ 355.95.
September 11, 18, 25, October 2, 9, 16, 2019
Session 2, five week session
Tuesday evening: $175.00 + $22.75 (HST) = $197.75
January 7, 14, 21, 28, February 4, 2020
Wednesday morning: $262.50 + $34.16 (HST) = $296.63
January 8, 15, 22, 29, February 5, 2020
Session 3, five week session
Tuesday evening: $175.00 + $22.75 (HST) = $197.75
February 18, 25, March 3, 10, 17, 2020
Wednesday morning: $262.50 + $34.16 (HST) = $296.63
January 19, 26, March 4, 11, 18, 2020
Wednesday evening: $175.00 + $22.75 (HST) = $197.75
February 19, 26, March 4, 11, 18, 2020
Session 4, five week session
Wednesday morning: $262.50 + $34.16 (HST) = $296.63
April 1, 8, 15, 22, 29, 2020